Will The 2016 Presidential Election Affect The Real Estate Market
Many wonder and ask whats going to happen to the Real Estate Market after the election? The 2016 presidential election will absolutely have an impact on the housing market and the U.S. Economy. What those impacts will be are dependent on who occupies the White House in 2017.
Whether you prefer Hillary Clinton, Donald Trump or Bernie Sanders, there's no question that the next president's economic and employment policies will be a key influence on the health of real estate for the next four years, including, perhaps, the price of a mortgage.
A recent survey revealed increasing numbers of Americans believe the 2016 presidential election will have a negative effect on the housing market.
The survey was done by a national real estate firm and showed 27 percent of homebuyers believe the election will hurt real estate, up from 15 percent in February. The poll was conducted between May 17 and May 23 and includes responses from 975 homebuyers in 36 states and Washington, D.C.,
"While homeowner anxiety over the election is clearly mounting, the likelihood of an immediate shock to the market is slim", It will take considerable time for our next commander-in-chief to implement policies that have any impact on housing.

Stocks will plunge if Donald Trump is elected President. And the bond market could capsize if Trump goes ahead with plans to renegotiate the national debt. BUT if Hillary Clinton wins the White House, she'll cripple the economy by hiking takes by $1 trillion.

Election or not recognize that sellers have diverse reasons for selling: job change, family expansion, trade up, martial changes, or perhaps health or a child's special education needs. So election year or not, economy up or down, a need to sell may exist with a call for action (and perhaps an urgent one at that). Hold out for the highest price or settle for the best price and move on.

On the other hand, surprisingly, buyers seem to be cut from a similar cloth. Most purchases are discretionary yet with different timing and motivation, which suggests no urgency in pursuing goals such as trading up, adding another bedroom, realizing that renting doesn't pencil out anymore, and of course the HNWIs (high net-worth individuals) who want that oceanfront after all. Timing is everything and election-time isn't really primetime.
Elections have historically affected house prices with a slightly lower percentage increase in value. According to a movoto.com study of the California real estate market, house prices typically rise 1.5% less during an election year than in the year prior to the election, and 0.8% less than in the year following the election. This may not seem like much, but these percentage differences can add up over time. An election year could potentially cost homeowners thousands of dollars in lost value to their largest assets.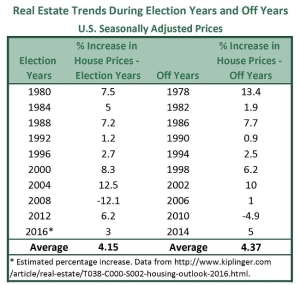 Using the Freddie Mac House Price Index, I looked into the historical effect that election years have on U.S. real estate prices as compared to off years. The off years that are considered are the even-numbered years that fall between elections. Using the percentage increase for the 12th month of each year in the sample, I found that house prices in the off years increased, on average, by 0.22% more than house prices in election years. The chart (right) details the percentage increases for each year in the sample since 1978. For 2016, house prices are estimated to increase by 3%, a drop from 5% in 2014.
So how will 2016's Election Day play out? I think we'll just have to wait for November 8th when Americans cast the deciding votes for the 58th quadrennial U.S. presidential election.

Ellen Dynov-Dell'Alba & "The Platinum Group" are here for all your Real Estate needs. Let us know how we can help
www.EllenAndThePlatinumGroup.com
Author:
Ellen Dynov
Phone:
732-710-5342
Dated:
October 5th 2016
Views:
739
About Ellen: ...